The Key to Making a Global Start-up Your Customer
If spirit of challenge without any fear of failure is a factor that influences a start-up's fortune, then this company is already well on its way to success.
"I blindly went to Airbnb to introduce our recruiting service."
Jasper Sone, the CEO of Good Time, said, "I was confident that our services would be able to solve the inefficiency problems that arise in the recruitment process, so I didn't mind much even if our proposal was going to be refused." When Sone first visited Airbnb, his company's services were still at the idea stage.
"Whether the appointment with the person in charge was confirmed or not, I went to meet the staff, bringing delicious cookies. I even surveyed every single notable bakery in San Francisco. Maybe the staff met with me with the intention of tasting sweets one more time. I think the Korean style approach worked, because Koreans think that it's not good manners to do a visit empty-handed."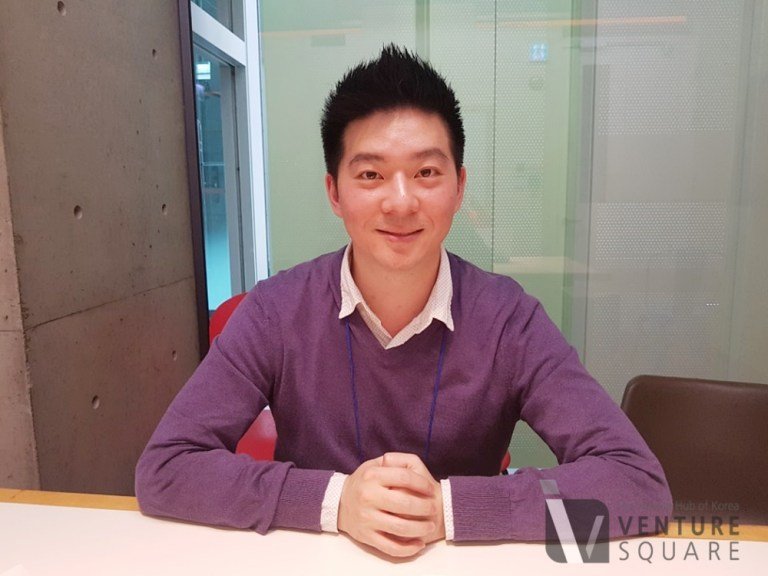 It seemed to be a reckless attempt, but his tenacity in visiting every day for three months led to success, making Airbnb the first Good Time customer. The company upgraded its services rapidly through meeting with Airbnb officials as if he had gone through the process in a Hackathon Competition. Sone originally started up Good Time after a number of Hackathon wins. Three months were then spent on the Airbnb project, but the research on the relevant services had been carried out of over the course of a whole year, so a quick implementation of the system was possible. As there was no one in charge of HR affairs among the teammates, Aryeon Moon, the Co-CEO and Sone's wife, even worked at several firms without any pay to learn personnel tasks.
Of course, Good Time did not limit the possibility of business partnerships to just Airbnb. Rather, it was Airbnb that accepted their proposal first. What made Sone determined to make a global giant like Airbnb his first customer?
"There was a start-up that offered services similar to ours, but it did not grow very much and was sold. I met the company CEO and found out that they had difficulties in growing because they made deals with only small-sized companies. So I considered only big firms as our customers. And I found business potential in this area. It's very difficult to hire good talents in an expanding company and I was confident that we could solve the problem."
"I thought I would die if I didn't do it right now. I like to choose something that's difficult and give it a try, rather than taking the easy way," he added. Maybe it is Good Time's reputation as a company that is recognized by Airbnb that made more than 20 Silicon Valley start-ups, such as Box, Stripe and Yelp, join its list of clients.
Good Time offers a unique job interview scheduling service. Its home-developed algorithms dramatically reduce the time and effort that recruiters require for coordinating the schedules of interviewers and interviewees, thereby allowing HR officials to focus more on recruiting good talents. Prior to starting Good Time, Sone worked as a product manager at Yelp, a restaurant information service provider. Joining Yelp at a time when its employees were around 120, he saw that number increase to 5,000 and realized that the recruitment of good talents has a significant impact on a company's capabilities.
He said, "A company's mission and investment become important as a company grows rapidly, but good recruitment of capable employees is also a key." He added, "As a company increases in size, it requires a great deal of resources and spends funds on recruitment, but a significant amount of inefficiency is part of this process." In particular, the person in charge of HR needs to properly match interviewers with interviewees to hire good people, which is an ineffective process. While it is easy to match interviewers and interviewees in a small company, because the numbers are low, the coordination of individuals and schedules becomes more difficult the bigger a company is.
In actuality, recruiters spend 60 to 80 percent of their time scheduling interviews. Companies in the US do not unilaterally inform interviewees of interview dates and times as big corporations in Korea do, but assign interviewers according to interviewees' academic background, career and job, thus, the matching work needs to be carried out with much care. More experienced recruiters are said to require about nine minutes for setting up a one-on-one interview, and about 25 minutes for a one-to-many match.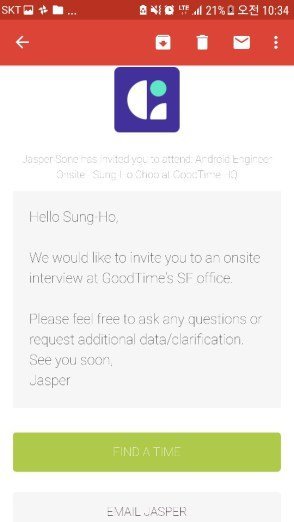 Good Time's own AI technology matches interviewee groups with required qualifications and provides information about them. The technology gives interviewees the option to choose the date and time for an interview and matches them with the interviewer available at that time. The process seems simple, but until now recruiters have wasted a lot of time matching appropriate interviewers and applicants.
"For a company to be successful, a good person has to join. I hope we can help capable people work for a good company in the world."
Source text : https://steemit.com/kr/@venturesquare/xpcjp
Translated by 황 수경 (https://www.babeltop.net/ko/dashboard/order?translatorUsid=1aa5f1cc25e3)
Translated text : https://steemit.com/kr/@babeltop/the-key-to-making-a-global-start-up-your-customer